What is allergy immunotherapy?
This treatment involves periodic injections with tiny amounts of the allergen to which you are allergic. A tolerance to the allergen is gradually built up so that you can be exposed to the allergen without developing the same degree of allergic symptoms. Allergy injections may be prescribed for stinging insects, pollens, mites, molds and animal dander. Food allergy cannot be safely treated with allergy immunotherapy at this time.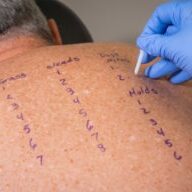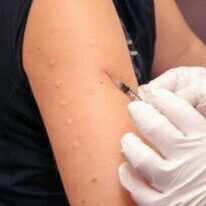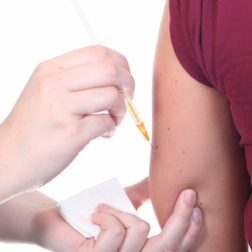 HOW CAN I GET STARTED ON ALLERGY IMMUNOTHERAPY?
The first step to get started on immunotherapy is to make an appointment with our office.  Immunotherapy is tailored to each individuals allergies, so we will begin with percutaneous allergy testing.  After the first round of testing, the provider will ask you to return for a second set of testing (intradermal testing).  Once we have a list of proven allergies, our office will mix a serum especially for you, and you can start receiving allergy injections.  These steps are also portrayed in the images above!
HOW EFFECTIVE ARE ALLERGY INJECTIONS?
The amount of relief depends in part upon the disease being treated, the age of the patient, and the allergen involved. Most patients derive significant relief from their symptoms and some eventually become completely free of symptoms. Unfortunately, a few patients derive no benefit and other means of therapy must be found.

Allergy shots do not "cure" allergies, but some relief from allergy symptoms can last even years after the injections are discontinued. There is also evidence that allergy shots may prevent the development of new allergies in some patients.
ARE THERE ANY SIDE EFFECTS OF ALLERGY IMMUNOTHERAPY?
Since the shots contain materials to which the patient is allergic, it is possible to produce allergic symptoms from the injections. Many patients experience short-term itching or swelling at the injection site. Taking an antihistamine on the day of the injection can minimize this reaction. Rarely, the patient may experience hives, trouble breathing, or a generalized allergic reaction.

A reaction is more common if the injection is given when a patient is having active asthma symptoms. Always report any breathing difficulties before receiving allergy immunotherapy. Allergy injections also should not be given if a patient is ill or has a fever. Patients who are taking a beta blocker should not be on immunotherapy
WHAT IS IN THE ALLERGY SHOT(S)?
Allergy injections contain small amounts of the purified substances (allergens) to which the particular patients is allergic. Allergy injections may be prescribed for stinging insects, pollens, mites, molds and animal danders.

It is important to note that food allergy cannot be safely treated with allergy immunotherapy at this time.
HOW OFTEN MUST INJECTIONS BE GIVEN?
At the start, we recommend having injections at least two times a week to build up tolerance. Allergy injections must be given at least 48 hours apart. Once the desired maintenance dose is achieved, you can cut back to receiving shots every 14 to 21 days.  Immunotherapy with venoms for stinging insect allergy follows a slightly different schedule.

Keeping to the schedule of injections is very important. Since development of tolerance is a slow process, and since very low doses of the allergenic substances must be used at the start, the injections should be given at the prescribed intervals. If injections are given irregularly, control of symptoms may be reduced or delayed, and risk of allergic reactions to the injections is increased.
HOW LONG MUST I WAIT IN THE OFFICE AFTER RECEIVING AN ALLERGY INJECTIONS?
You must remain in a provider's office for 20-30 minutes after receiving an allergy injection. This is necessary so that if you have a severe reaction it can be treated promptly.
HOW LONG SHOULD I RECEIVE ALLERGY SHOTS?
This varies with the allergy being treated and the response of the patient. In general, patients require injections at regular intervals for three to five years after their build-up phase. This will vary with the allergies being treated, and the response of the patient.

Patients with life-threatening stinging insect allergies may choose to remain on this therapy for years.
HOW MUCH DOES IMMUNOTHERAPY COST?
Immunotherapy can be expensive and cost will vary depending on your insurance benefits.  Our office offers a free financial counseling session to each patient considering immunotherapy, so that they can properly plan for the expenses that may be incurred.

We also offer payment plans to help make this treatment option affordable for all who need it.